P is for Pikeur and Positive Vibes Only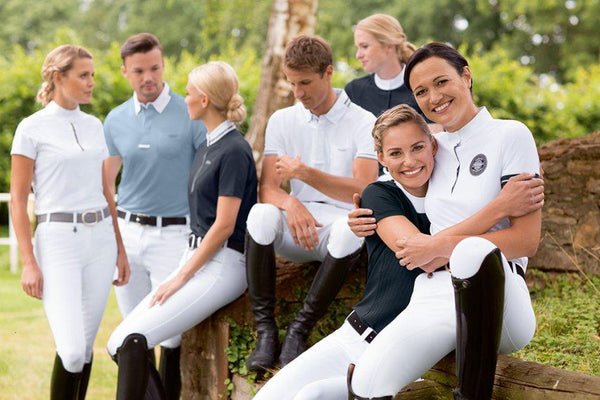 Some good news to break the mould! Whilst our team will be taking every possible precaution, we are please to assure you that our website will remain operational for the foreseeable future. So you can still feed your online shopping addiction as you continue to practising responsible social distancing!
Now whilst I'm sure that unlike me, your isolation routine does not consist of eating 5x the necessary meals in the day (comprised of mainly cheese and wine based cuisine), and instead of competitive Netflix binges, you are engaging in mindful activities that are good for the Body and Soul, such a yoga or perhaps Feng Shui. But if like me, you are in need of a distraction to force you to put down the Brie and Beaujolais, here's some Isolation Inspiration:

If you're feeling blue, why not feel Caribbean Sea blue…

This ladies and gentlemen is my Colour Of The Season! And is available in a variety of options, from tantalising tees, gorgeous gilets, cute coats and the jazziest of jackets. Check out some of my favourites:

 Up first it has to be the Inka Soft-shell Gilet. A returning classic that has spanned many a collection with it's practical design, each season this revolutionary piece returns in stunning seasonal colour options, with the latest innovations, ensuring a continuation of fun and functionality. This Spring, with a super handy rear pocket, perfect for pony treats!
Click here to shop now!!
Next we have the perfect underlay to this gilet, the Yva tee. Comfy cotton blend fabric, combines with a super cute design in this pretty and practical new addition to your summer wardrobe. Top tip for true blue believers: the Caribbean Sea colour option was made to pair with Candela jean breeches in denim blue!

Click here to shop now!!
 Last but not least, allow me to introduce you to the waterproof jacket that is going to completely change your life: The Alexis AAC Waterproof Jacket. Forget stuffy, uncomfortable so-called 'waterproofs' that offer little in the way of protection longevity not to mention breathability, and say hello to a lightweight, breathable and super comfortable jacket that will offer maximum protection (from both the wind and rain), as well as un-paralleled breathability and comfort thanks to the Active Air Condition technology. The perfect layer of protection for those blissful fresh air breaks!

 Click here to shop now!!
Looking for some seasonal cheer? Brighten up your day with berries…wild  berries to be precise. And explore our offering of fruity and fun brightly coloured collection!

 Looking for your perfect lightweight breeches for the summer months, that offer sublime style and continuous comfort? Then Look no further! This is my breech of the season, with a trendy mid rise, functional pockets, sensational soft-shell fabric available in this stunning Wild Berry colour options, as well as some more demure offerings.
Click here to shop now!!
The Pikeur ladies Anni jacket is streamlined and stylish, sometimes no hood just makes me happy! I'm sucker for for the succinctly styled look of a hoodless jacket, and this slim-fitted piece is the perfect embodiment of that aesthetic. Perfect for pairing with high-waisted Pikeur breeches, why not the brand new Pikeur ladies Jonna breeches for some extra bling.

Click here to shop now!!
Dare to be different and colour up those calves with the Pikeur functional tube socks in brand new seasonal colour options! Again enjoy some fruity fun with these Wild Berry accessories. Stuck for Springtime gift inpso? These super socks are a great idea that won't break the bank, and if you're not gift shopping why not treat yourself to a pop of colour guaranteed to brighten up your day BERRY much!
Click here to shop now!!
Just a little something to remind us all that taking a break from socialising does not dictate taking a break from styling!

Stay stylish and safe out there,

Henrietta