Choosing the right breeches for you!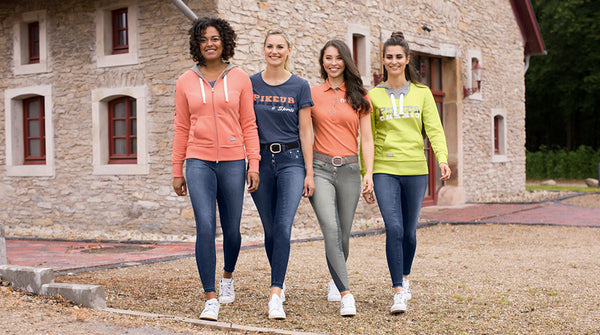 What to look for when shopping for your next pair of breeches...
Just like finding that elusively 'perfect' pair of jeans, selecting the right breeches for you can be an overwhelming task. When aspiring for the perfect fit, it's easy to thing about your shape in a negative way, your calves are too wide or too skinny, your waist is too narrow or wide, or your legs are too short or too long, we prefer to think of these physical characteristics as a celebration of individualism, which is why we've put together a great range of styles that offer something for everyone!
For more shapely legs, mid/high waisted Pikeur designs are a better option, for example the Lugana stretch breeches are a fantastic every day staple pair to add to your collection. Small waists are better show cased by high waisted models, and there are plenty of options in that category! One of our favourites are the deliciously decorative Pikeur Candela Strass breeches.
For wider waistlines, low-rise styles offer greater comfort and a more flattering finish, one of our favourite styles is the Pikeur Lucinda breeches, available with or without the full seat and with grip or suede seat panel. The vast majority of styles are available in both regular and long lengths, for petite ladies children's breeches from Pikeur can also be a great option with an even greater saving on price.
It's also important to consider the best fabric for you and your riding climate. For winter riding, we offer fleece lined and water-repellant winter fabrics, and for summer riding and warmer or humid climates, we offer some great lightweight options for maximum breathability and comfort. We've also got some great new styles which embrace the rise of the riding legging, for example; we're loving the Gia grip from Pikeur (available full seat or knee patch), an elegant and high waisted legging which looks great on all shapes!

For those competing in white, fabric is an even more essential component. There are a range of great options across our collection, from opaque leggings, to dirt resistant and water-repellant. Our top pick this season for unparalleled innovation is the brand new white jean colour option in the Pikeur Darjeen denim grip model. This fashion-forward look is a super-flattering and stylish staple for this year's show circuit!

Once shape and fabric are taken care of, there are still may more individual considerations when choosing the perfect new pair of breeches. Notably, pockets; the preferences of which vary enormously. It's important to bear in mind that minimal pockets tend to provide a more classic and polished look, so this is a great design option for more conservative levels of competition or other equestrian activities, for example unaffiliated dressage and hunting.
The Pikeur lugana stretch breeches feature one small front zipped pocket, perfect for those striving for a more classic look. Equally the Pikeur Ciara breeches (available with grip or suede knee patches) with two traditional open front pockets are a perfect choice for American hunter classes. For competitors who favour functionality over minimalism, there are also a number of great choices, like the brand new Pikeur New Generation Hanne Grip breeches (available with full or knee grip) featuring a fashion forward and flexible fabric and integrated mobile phone pocket.

We recognise that whilst there are certainly some great offers available, such as special offer fabrics, reduced older styles and children's models, for the most part our breeches are not an inexpensive item, therefore it's important to ensure you get the most out of your purchase.
Before you buy, consider how much you intend to use your breeches, if you're looking for something to wear multiple times per week for extended periods of time, we recommend a style with silicone grip (either full seat of knee grip), as this fabric is fully integrated and offers more longevity. Denim models are also extremely long-wearing and are super functional as they can easily be worn in and out of an equestrian setting.

After you've purchased, all styles are relatively easy care and can be machine washed, but be sure to wash at no more that 30 degrees celsius and to use a non-biological detergent so as not to compromise any of the functional properties. After washing simply leave to dry (do not tumble dry) for great results every time. For white breeches, don't be tempted to use bleach are harsh cleaners, if they are badly marked, we recommend applying detergent directly to the marked areas in addition to your machine, you can also pre-soak in lukewarm water prior to washing. Special insider tip: Estee Lauder Perfectly Clean foaming face wash is a sensational stain remover!

The value of our core brand Pikeur, is demonstrated in it's use by top equestrian professionals around the globe. Our own sponsored rider Meghan O'Donoghue loves a bit of bling with her breeches and is constantly show-casing old and new designs alike! Meghan recently fell in love with the beautiful Udina breeches from the Spring Summer 2019 collection, and when it comes to competing, you'll rarely see her out of her Candela grip breeches, which are also the choice of international dressage sensation Charlotte Dujardin, who favours the suede seat panel for a timeless look.